By Mona Butler
Winter offers some beautiful things: fluttering snow, warm drinks, and cozy clothes. Less so, however, is winter skin! The frustration and discomfort alone are enough to ruin anyone's mood, and let's not even get started on having to deal with the dry, flaky patches that show up to mar your complexion!
Here Comes Winter Skin Again
You know it is coming every year but, why exactly does it happen? It turns out that question comes with a trifecta of answers. The first and foremost problem is the fact that as humidity levels drop in the winter the cold, dry, air causes moisture in your skin to evaporate more quickly. In fact, your skin will lose about 25% of its ability to retain moisture. This leaves your skin feeling dry, tight, and flaky. The other two reasons are, unfortunately, due to our efforts to stay warm through the cold months. As the temperature drops outside, it's only obvious to want to crank the temperature inside. This heating further dries out your skin. And that long, soothing, hot shower you take to shake off the cold after a brisk winter walk? The near-scalding hot water strips your skin of natural oils, making it more susceptible to dryness. So, what do you do? Turn down the heat and resign yourself to cold, uncomfortable showers? No, not really!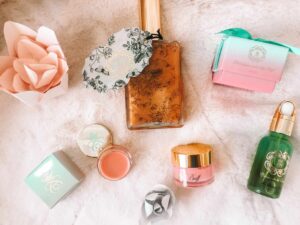 Adapt and Overcome
Nothing can be done about the dropping temperatures but there are a few things you can adjust to save your skin some trauma this winter. Making sure to cover your skin from the elements when you go out will mitigate some of the damage. Once indoors, resist the urge to turn the heat up to the max. Instead, find a comfortable temperature and accept that after all these years, your parents were right when they said to simply put on a sweater! Consider investing in a humidifier as well, since the lack of humidity outside is most likely the root of the problem. When you shower, don't do so in the hottest water you can stand, no matter how good it may feel. Not only is it bad for your skin, but such high temperatures are bad for your hair as well. If sacrificing your near-scalding showers is too much at first, start by spending less time in the shower. The final piece to the winter skin puzzle is to, of course, moisturize.
Do Not Forget to Moisturize
Moisturizing will help you recover from all three of the above problems. Settle yourself into a solid, moisturizer-forward skincare routine that includes care for your lips! The soothing Kush and Caviar Beauty Elixir, formulated with cold-pressed hemp oil, exotic green caviar oil pressed from seaweed, and cannabis seed extract is rich but absorbs quickly and is a must-try for those with irritated skin! When it comes to your lips, don't be afraid of a little scrubbing. The right lip scrub will gently buff away dry skin so that your lip balm will be more effective. Remind yourself of the bright flavours of summer with the Pink Lemonade Lip Buff, followed by the Coconut Crème & Peach Lip Soufflé, which is packed with hydrating ingredients such as shea butter, hemp seed oil, and bilberry fruit extract. You want to treat the rest of your body as well as you treat your face, so investing in an ultra-hydrating lotion or body oil will go a long way. Pick from one of three sumptuous body gloss scents: Monoi de Tahiti, Pamplemousse Blanc, or Sugar Cane & Vanilla Bean. All of these are formulated with exotic cold-pressed fruit oils and botanical extracts, designed to firm, increase elasticity and reduce dryness. Simple rub onto damp skin right out of the shower!
Your Winter Skin Arsenal
There's no longer any need to dread winter skin; the cold weather can't hurt you anymore. Don't give in to frustration and resign yourself to chapped hands and flaky patches. You've got the knowledge and tools you need. Moisturize, put on a warm sweater, and resist those boiling-hot showers!