So, What is The Difference?
Lately, the makeup world has been filled with controversy about eyeshadow palettes that have been released containing a mixture of eyeshadows and pressed pigments. You probably didn't realize that there is a difference between the colourful powders.
If you you were unaware of the difference, then you've come to the right place! So, what is the difference between the two? Eyeshadows contain a mixture of pigments, micas, binders and preservatives to create a creamy smooth formula that is seamless and blends with little effort.
Pressed pigments are just as they sound, they are simply pigments pressed into a pan. Pressed pigments usually do not include a lot of "filler" ingredients to bulk up the formula.
Therefore pressed pigments  tend to be extremely vibrant, rather than providing a "wash" of colour, they provide full pigmentation. They usually require an eyeshadow base or concealer for the pigment to "stick" to the skin.
Pick Your Eyeshadow Brush Wisely
Different techniques are also used to apply them a classic eyeshadow versus a pressed pigment . Rather than using a fluffy blending brush to apply pressed pigment, use a small dense packing brush. The short, densely packed hairs of this style of brush performs best when applying pressed pigment.
Application of pressed pigment also differs. Instead of using a sweeping or circular motion to deposit colour on to your eyelids, a tapping-packing method works best when working with pressed pigments.
Once you have achieved your desired look, you can then use a fluffy blending brush to diffuse the pressed pigment. When applying eyeshadow, blending is key, because harsh demarcation lines on eyelids are a big NO NO!
There is a slight learning curve when using pressed pigments, as opposed to classic eyeshadows. However with a bit of practice and the proper eyeshadow brushes, it will be a breeze to master! Take a gander at our "Do You Even Blend?" 12 piece eyeshadow set and start applying your eyeshadow like a pro!
Cosmetic Labeling
Palettes that contain pressed pigments will always state it on the packaging and if the brand is labelled as cruelty-free and vegan, will also provide a warning stating that they can stain your eyelids. Why would they stain your eyelids? Cosmetics that are red, pink, or purple can contain an ingredient called carmine. To put it bluntly, carmine is crushed beetles, they are perfectly safe to be used in cosmetics and have been for years. However, since they are beetles, many brands that are cruelty-free prefer to use dyes to create the red colour that carmine would have provided. Dyes can stain people with sensitive skin or when used in excess.
So now that you're an expert, have you used both eyeshadows and pressed pigments? Which do you prefer?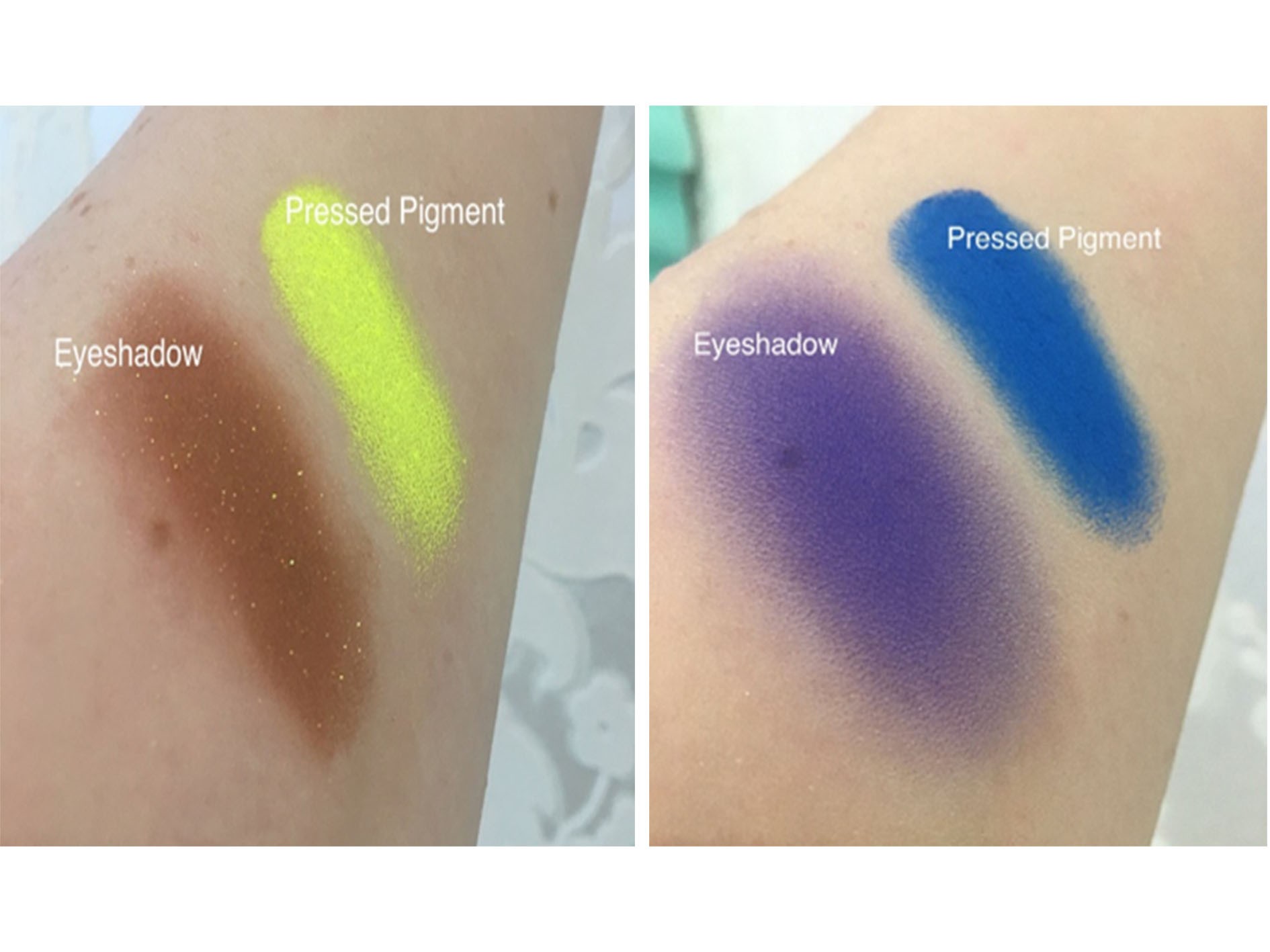 0
Your cart is empty.