What Beauty Lover Doesn't Like Gifts?
It's that time again. You are looking for the perfect gifts to give those who helped get you through the year. Here, there is something for every beauty lover: the bold lip babe, the eyeshadow fine artist, the skincare devotee, the lash addict, and the nail polish maven. While you are at it, maybe grab a gift for yourself. You've earned it.
For the One Who Loves Lipstick
Whether their thing is a liquid to matte, a classic cream, or a juicy gloss, you could tip over their purse and out would tumble a dozen different products. They are always giving you the best tips for lips, so why not turn the tables and present them with what is sure to be their new favourite? For the lover of bullet lipsticks, pick from 22 Crème Lipstick shades. For the friend who swears by the long-wear nature of a liquid to matte, there are 15 Velvet Lip Crème shades to choose from. And, for the one who's lips are always reflectively glossy, there are 17 Buttercrème Lip Gloss shades to make their day with.
For the One, Who's Eyes Always Look Like Art
They have mastered them all: smokey eyes, cut creases, and gradients. They can line their eyes with a flick of the wrist, whereas you spend precarious hours trying to evenly apply liner, and you're probably going to redo one eye. Makeup is an art and their blending skills are living proof! Select one of six eyeshadow palettes or pull together the colour story that makes you think of them by choosing from individual pans of matte, shimmer, or foiled shadows.
For the One Who Never Skips Skincare
Their skin is flawless. You are in both awe and envy. No matter how late, tired, or tipsy they come home, every step to their routine is diligently followed. Give them a skincare gift that will fit right into their rotation. There are four Beauty Elixir formulas to choose from – one of which has 24K gold in it! 
For the One Who Believes Lashes are Life
They are bold, bodacious, and they have a pair of lashes for every day of the week and every special occasion in-between. Be a lash hero, and introduce them to the latest fluttery addition to their collection. Give them their next pair of intense statement lashes, like Strike a Pose or, lean towards subtle and pretty with the perfect day time lash: Faux Sure They're Real.
For the One Who's Nails are Never

Au

Naturelle
Their nails are always perfectly shaped. Not a cuticle out of place. They change up nail colours like someone would lipstick, and if they head to the salon? They bring their own nail polish because their collection will always be superior. You could gift them one of many equally show-stopping Blue Label Nail Glosses but, why not go a step further? Consider instead one of three Black Label Nail Glosses to add a coat of luxury to any manicure. Pick from 18k gold flakes, 24k gold flakes, or platinum flakes.
So, What is The Difference?
Lately, the makeup world has been filled with controversy about eyeshadow palettes that have been released containing a mixture of eyeshadows and pressed pigments. You probably didn't realize that there is a difference between the colourful powders.
If you you were unaware of the difference, then you've come to the right place! So, what is the difference between the two? Eyeshadows contain a mixture of pigments, micas, binders and preservatives to create a creamy smooth formula that is seamless and blends with little effort.
Pressed pigments are just as they sound, they are simply pigments pressed into a pan. Pressed pigments usually do not include a lot of "filler" ingredients to bulk up the formula.
Therefore pressed pigments  tend to be extremely vibrant, rather than providing a "wash" of colour, they provide full pigmentation. They usually require an eyeshadow base or concealer for the pigment to "stick" to the skin.
Pick Your Eyeshadow Brush Wisely
Different techniques are also used to apply them a classic eyeshadow versus a pressed pigment . Rather than using a fluffy blending brush to apply pressed pigment, use a small dense packing brush. The short, densely packed hairs of this style of brush performs best when applying pressed pigment.
Application of pressed pigment also differs. Instead of using a sweeping or circular motion to deposit colour on to your eyelids, a tapping-packing method works best when working with pressed pigments.
Once you have achieved your desired look, you can then use a fluffy blending brush to diffuse the pressed pigment. When applying eyeshadow, blending is key, because harsh demarcation lines on eyelids are a big NO NO!
There is a slight learning curve when using pressed pigments, as opposed to classic eyeshadows. However with a bit of practice and the proper eyeshadow brushes, it will be a breeze to master! Take a gander at our "Do You Even Blend?" 12 piece eyeshadow set and start applying your eyeshadow like a pro!
Cosmetic Labeling
Palettes that contain pressed pigments will always state it on the packaging and if the brand is labelled as cruelty-free and vegan, will also provide a warning stating that they can stain your eyelids. Why would they stain your eyelids? Cosmetics that are red, pink, or purple can contain an ingredient called carmine. To put it bluntly, carmine is crushed beetles, they are perfectly safe to be used in cosmetics and have been for years. However, since they are beetles, many brands that are cruelty-free prefer to use dyes to create the red colour that carmine would have provided. Dyes can stain people with sensitive skin or when used in excess.
So now that you're an expert, have you used both eyeshadows and pressed pigments? Which do you prefer?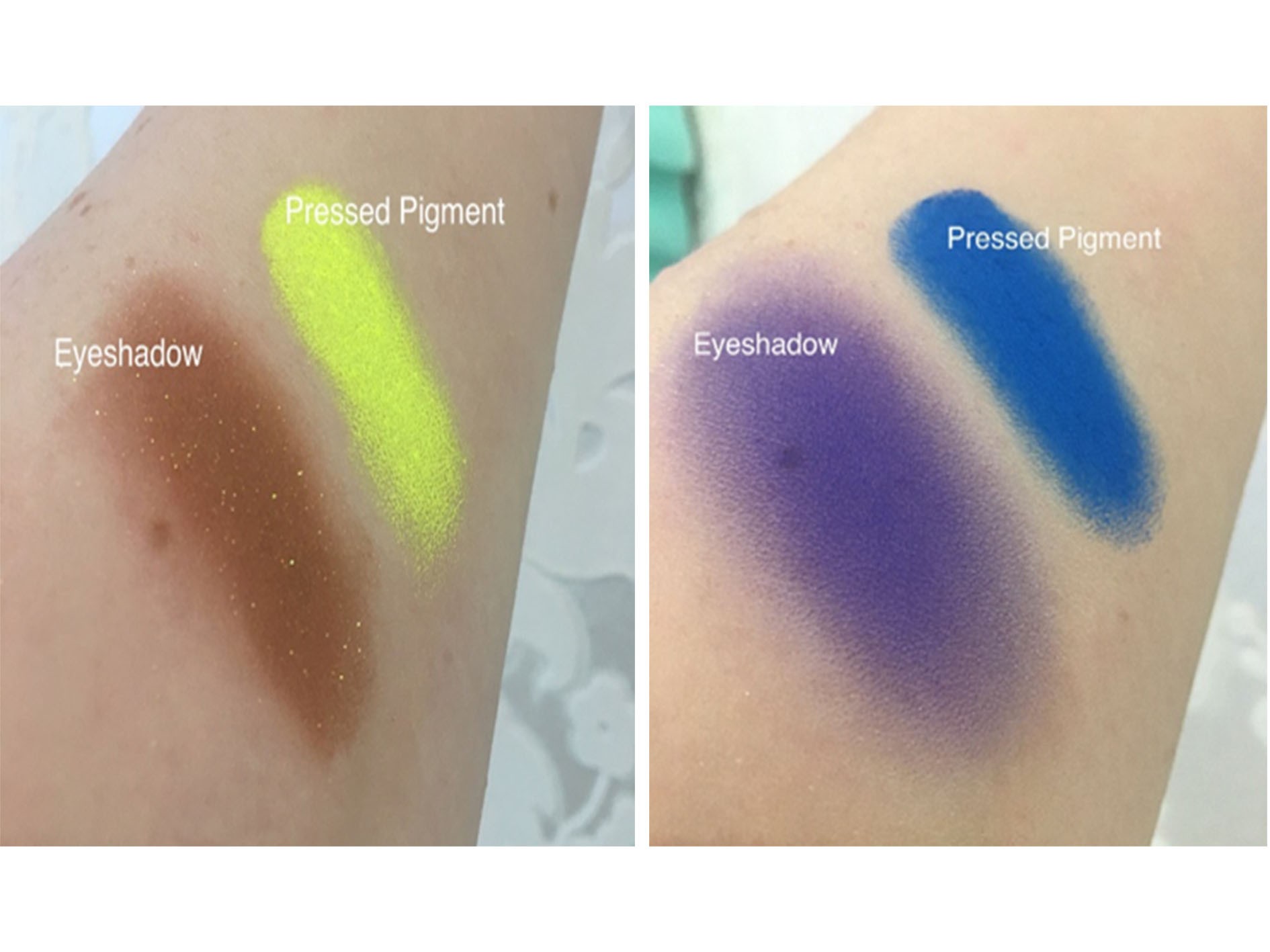 0
Your cart is empty.