The right set of lashes can take your look from drab to fab in just a few minutes! However, choosing the perfect lash can be tricky, especially when given so many options. At Crème de la Crème, we offer lash styles that can add length, volume and drama, but which one should you choose? Your preferences and personal style will help play a part but so does your eye shape! Here is a simple guide to help you with the process: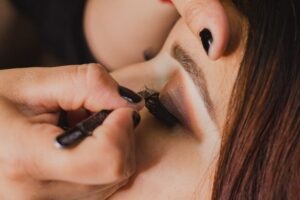 Deep-Set Eyes
Since this eye shape generally sits under a prominent brow bone, we recommend choosing lashes that focus on length. By adding length, will allow your eyes to appear less deep-set and more open. We generally suggest avoiding lashes that are shorter and denser, as they can have the opposite effect. Our favourite lash styles for deep-set eyes are Naturally Fake, Deux Die For and Bougie.
Round Eyes
Long, curly, wispy? Take your pick! If you have round eyes, delicate simple lashes will enhance your daytime look! Take your look into the evening by swapping out your wispy lashes for some voluminous cat eyelashes. These lashes start with a shorter inner corner and flare out to a longer outer corner, this will elongate your eyes and vamp up your look. Our top picks are Faux Sure They're Real, Wink Wink and High Maintenance.
Almond Eyes
Most lash styles will compliment almond eyes, so your personal preference will be a major player when it comes to picking your lashes. If you have a late-night and want to appear a little more bright-eyed, try out a pair that's shorter on both the outer corner and inner corner while being longer in the center, like Boudoir. When you're ready to paint the town red again, add in some volume and drama with Unfauxgettable or Trophy Wife.
Hooded Eyes
If you have hooded eyes, most of your mobile lid space will not be visible when your eyes are open. Sometimes leading to the appearance of smaller eyes, but don't fret, we've got the perfect lashes for you! We suggest popping on a pair of longer lashes that have a slightly more dramatic curl, such as Spoiled or Feelin' Myself. Similar to your deep-set eye sisters, avoid lashes that are short and dense and you'll be Feelin' yourself in no time!
Mono Lid Eyes
If your eyelid crease is nonexistent, the right pair of lashes can make the world of difference. Go for length, curl and throw in a little wisp and you're all set. Our favourite mono lid lashes are Fauxbidden Fruit, Vixen and Heartbreaker.
At the end of the day, you do you, feel free to change up your lash look and experiment with different styles to find your favourite! Whether you are looking for lashes, application tips or beauty advice, Crème de la Crème is your one-stop-shop!
Pre-Event Skin Care
Skincare should be a vital part of everyone's daily routine. Your skin is your body's biggest organ and a part of you that you expose to the world. While it is important to maintain a proper skincare routine daily, there are also a few extra steps you should take prior to any big event! I will share those here with you now!
Tip 1.
Don't start any new acne or skincare practices in the weeks leading up to your event. Although I will be encouraging many products throughout this post I always recommend trying it out on your skin months prior to your event. Certain products and skincare regimes can contain ingredients that don't agree with your skin or that you may be allergic to. Not to mention no product works magically overnight, and often your skin goes through a 'purge' phase where it actually becomes worse before it gets better. You don't want to start a new routine and have your skin in the 'purge' phase on your wedding day. If you feel like your skin requires extra attention or new products start them at least 6 months before your event.
Tip 2.
Exfoliate, exfoliate, exfoliate! Not just your face but also your entire body. Buff off all the dead skin cells that are taking up space and making your skin look dull! Using a salt or sugar scrub on your body is ideal. Using a microdermabrasion scrub on your face is a must, often foundation and other makeup with a stick and settle into dry patches on your face. When your face is freshly buffed your makeup will look flawless and glowing!
Tip 3.
Use sunscreen! Protecting your skin from sun damage is the most important step you should be taking daily. Regardless of the type of sunscreen you choose just make sure you use it. Often the SPF in makeup alone is not enough coverage especially if the UV index is high. It is common for people to think they will not achieve a tan while wearing sunscreen and opt-out in order to get their bronze on. This is a HUGE mistake! Not only will it prematurely age your skin but it puts you at a huge risk for developing melanoma and other forms of skin cancer. Protect, don't regret it!
Tip 4.
Although it may seem unrelated, skincare also starts with what you put in your body. Water is #1, make sure you drink at least 8 glasses a day. That doesn't include coffee or lattes or wine lol! Drink at least 8 glasses of pure water a day and your skin will thank you! Next up, cleanses. Often people like to do juice cleanses or tea detoxes prior to events to help drop a few pounds. What most people don't realize though, while most of the toxins are excreted via bodily functions, they will also be excreted via your skin. Primarily your face, front and center! Save the detoxes for another time!
Tip 5.
Don't use a new self-tanner or get a spray tan for the first time. If you're a seasoned self-tanner or know a reputable spray tan facility, you'll probably be fine. But if you haven't done it before or are unaware of how certain products will perform, I definitely recommend avoiding it. No one wants to look orange or patchy for their special event!
Last but not least!
Lastly, finding the perfect regime for your skin can be daunting, it takes a lot of trial and error. It helps to know your skin type and what your skin needs. If you are unsure, I encourage you to visit a licensed esthetician and have your skin evaluated. Also, don't be afraid to ask for samples when at major department stores or boutiques. They will gladly offer up their expertise and samples to try different products on yourself prior to committing to a potentially pricey purchase. Don't think of am and pm skin routines as chores, think of them more as mini spa treatments, your skin will thank you!
0
Your cart is empty.