The right set of lashes can take your look from drab to fab in just a few minutes! However, choosing the perfect lash can be tricky, especially when given so many options. At Crème de la Crème, we offer lash styles that can add length, volume and drama, but which one should you choose? Your preferences and personal style will help play a part but so does your eye shape! Here is a simple guide to help you with the process: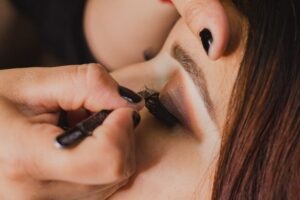 Deep-Set Eyes
Since this eye shape generally sits under a prominent brow bone, we recommend choosing lashes that focus on length. By adding length, will allow your eyes to appear less deep-set and more open. We generally suggest avoiding lashes that are shorter and denser, as they can have the opposite effect. Our favourite lash styles for deep-set eyes are Naturally Fake, Deux Die For and Bougie.
Round Eyes
Long, curly, wispy? Take your pick! If you have round eyes, delicate simple lashes will enhance your daytime look! Take your look into the evening by swapping out your wispy lashes for some voluminous cat eyelashes. These lashes start with a shorter inner corner and flare out to a longer outer corner, this will elongate your eyes and vamp up your look. Our top picks are Faux Sure They're Real, Wink Wink and High Maintenance.
Almond Eyes
Most lash styles will compliment almond eyes, so your personal preference will be a major player when it comes to picking your lashes. If you have a late-night and want to appear a little more bright-eyed, try out a pair that's shorter on both the outer corner and inner corner while being longer in the center, like Boudoir. When you're ready to paint the town red again, add in some volume and drama with Unfauxgettable or Trophy Wife.
Hooded Eyes
If you have hooded eyes, most of your mobile lid space will not be visible when your eyes are open. Sometimes leading to the appearance of smaller eyes, but don't fret, we've got the perfect lashes for you! We suggest popping on a pair of longer lashes that have a slightly more dramatic curl, such as Spoiled or Feelin' Myself. Similar to your deep-set eye sisters, avoid lashes that are short and dense and you'll be Feelin' yourself in no time!
Mono Lid Eyes
If your eyelid crease is nonexistent, the right pair of lashes can make the world of difference. Go for length, curl and throw in a little wisp and you're all set. Our favourite mono lid lashes are Fauxbidden Fruit, Vixen and Heartbreaker.
At the end of the day, you do you, feel free to change up your lash look and experiment with different styles to find your favourite! Whether you are looking for lashes, application tips or beauty advice, Crème de la Crème is your one-stop-shop!